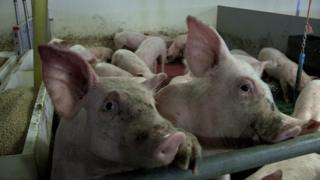 China has said it firmly opposes new tariffs the US plans to impose, saying it has "set a very bad precedent".
The tariffs on up to $60bn of Chinese products were announced on Thursday and were a response to allegations of intellectual property theft by China.
China said such measures were "not conducive to global interests" and urged the US to avoid damaging trade relations.
The dispute has sparked fears of a global trade war.
China earlier on Thursday announced its own raft of proposed tariffs worth $3bn in response to earlier US tariffs on steel and aluminium imports.
The list of products under consideration by China includes pork, wine, fruit and nuts and stainless steel pipes..
US pork in the crosshairs
President Donald Trump announced on Thursday that the US intended to introduce tariffs on China over its alleged unfair trade practices.
The tariffs would cover up to $60bn (£42.5bn) of Chinese goods while limits would be placed on its investments in the US.
In a statement on Friday, China's commerce ministry accused the US of ignoring its efforts to strengthen intellectual property rights and of "disregarding the voices of the broad masses of the industry".
"It is a typical unilateralism and trade protectionism. China firmly opposes it," said the statement.
"China will not sit idly by its own legitimate rights and interests. We are fully prepared to defend our legitimate interests."
The statement repeated assertions that China "does not want to fight a trade war, but it is absolutely not afraid of a trade war".
Also on Friday, steep new tariffs come into force in the US on steel and aluminium imports. Mr Trump has said these are needed to tackle "unfair" trade imbalances.
China, the 11th biggest exporter of steel to the US, said earlier on Friday it was considering measures "to balance out the losses caused to Chinese interests".
It said it was planning two steps of retaliatory action:
a 15% tariff on 120 goods worth almost $1bn – including fresh fruit, nuts and wine
a 25% tariff on eight goods worth nearly $2bn – including port and aluminium scrap.
Markets in Asia fell on fears that the US and China were about to embark on a trade war.
The benchmark Nikkei 225 was down 4.6% in late afternoon trade, Australia's S&P/ASX 200 closed down 2%, and markets in China were all in negative territory.
US stock markets also closed lower on Thursday.