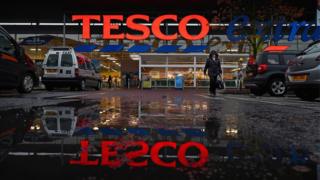 Tesco's £3.7bn takeover of food wholesaler Booker has been provisionally cleared by the UK's competition regulator.
The Competition and Markets Authority (CMA) said the deal could even increase competition in the wholesale market and reduce prices for shoppers.
It added that Tesco and Booker did not compete head-to-head in most of their activities.
In particular, it said Tesco does not supply goods to the catering sector.
The CMA concluded that the wholesale market would "remain competitive in the longer term" , because Booker's share of the UK grocery wholesaling market, at less than 20%, "was not sufficient to justify the longer-term concerns".
Simon Polito, chair of the CMA's inquiry group, said: "Our investigation has found that existing competition is sufficiently strong in both the wholesale and retail grocery sectors to ensure that the merger between Tesco and Booker will not lead to higher prices or a reduced service for supermarket and convenience shoppers."
Tesco said it welcomed the CMA's provisional decision and added that it would continue to work with the competition regulator, which is due to publish its final report by the end of the year. "We anticipate completion of the merger in early 2018," it added.
Booker is the UK's largest food wholesaler, and also owns the Premier, Budgens and Londis store brands.
Despite rising competition from the likes of Aldi and Lidl, Tesco remains Britain's biggest supermarket.