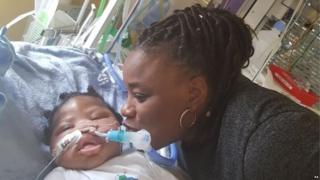 A mother and father are fighting a High Court battle to stop their eight-month-old son's life support machine being switched off.
Isaiah Hasstrup is brain damaged and dependent on a ventilator to keep him alive at King's College Hospital, London.
Doctors said giving him further treatment was "futile, burdensome and not in his best interests".
But father Lanre Hasstrup and mother Takesha Thomas want it to continue.
They also hope an independent assessor will be appointed to give a medical opinion.
Isaiah was born with a severe brain injury believed to have been caused by oxygen deprivation.
Doctors do not think there are any "further investigations or forms of treatment" which would benefit him, the hospital's barrister Fiona Paterson said.
She told Mr Justice MacDonald relations between hospital bosses and Isaiah's parents were "difficult".
The court heard that Mr Hasstrup, of Peckham, south London, had been barred from visiting the hospital following an incident a few days ago.
'Not a saint'
But Mr Hasstrup said he was considering seeking a judicial review over the ban and insisted there had been "no violence".
"I am not a saint but I am not a demon either," he said.
He told the court there had been a "lack of care" for Isaiah.
Mr Justice MacDonald created an order barring the media from identifying medical staff caring for Isaiah and said he hoped mediation could avoid a full trial.
Failing that, the court case will formally begin on 15 January.
A King's College Hospital spokeswoman said Mr Hasstrup had already made a written application for permission to launch a judicial review but this was refused by a judge earlier this week.
In July, the High Court ruled Great Ormond Street Hospital doctors could stop providing life-support treatment to baby Charlie Gard, following a lengthy and high profile court case.