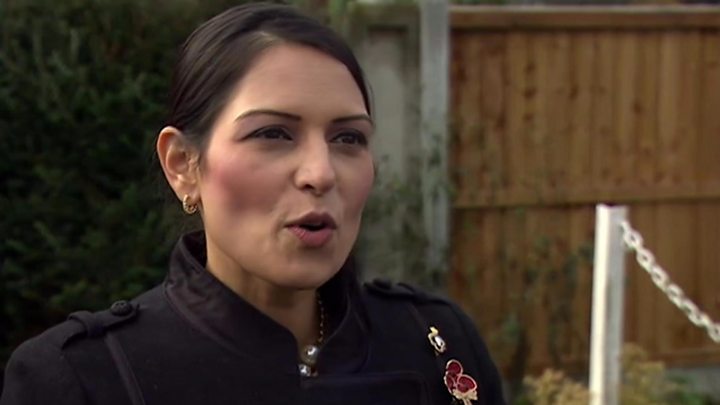 Priti Patel has made her first public appearance since resigning as UK international development secretary after a row over unauthorised meetings.
Ms Patel, 45, attended the Armistice Day service in her Witham constituency in Essex on Saturday.
Earlier this week, she was summoned to Downing Street and quit her cabinet post over her meetings with Israeli officials.
After the service, she said she had been "inundated" with support.
Ms Patel quit her post on Wednesday, admitting unauthorised meetings with Israeli officials had "lacked transparency".
Last week the BBC revealed how she had arranged a number of meetings with business and political figures during a family holiday to Israel in August, without telling Downing Street or the Foreign Office.
It later emerged that after Ms Patel's visit to Israel she asked her officials to look into whether Britain could support humanitarian operations conducted by the Israeli army in the occupied Golan Heights area.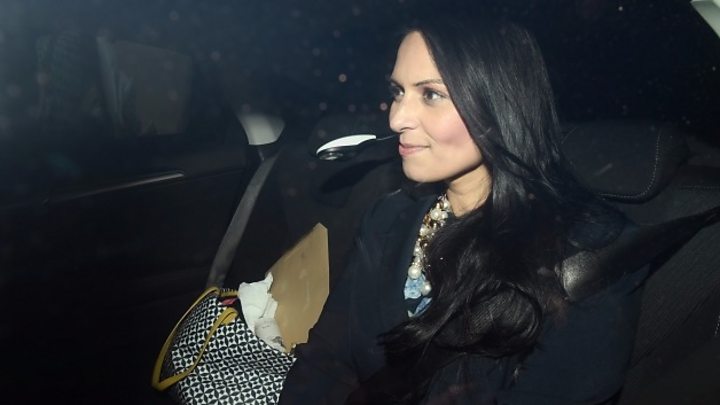 The Conservative MP did not take any questions during her visit to Saturday's service, but told the BBC: "I've been overwhelmed with support from colleagues across the political divide.
"Of course, nothing is more humbling than the support I've received from my constituents.
"I look forward to returning to Parliament on Monday where I will continue to be a strong voice for Witham and Britain."
The Conservative MP for Portsmouth North Penny Mordaunt has taken over Ms Patel's post.
Like her predecessor, she had also backed Brexit in last year's referendum.