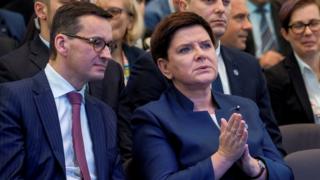 Polish Prime Minister Beata Szydlo has resigned, hours after surviving an opposition no-confidence motion.
She will be replaced by Finance Minister Mateusz Morawiecki, the governing Law and Justice Party said.
The BBC's Adam Easton in Warsaw says there had been growing speculation that party leader Jaroslaw Kaczynski wanted to replace Mrs Szydlo.
Insiders said a firmer hand was needed to steer the party through elections over the next three years.
Mrs Szydlo's resignation was announced hours after an opposition motion of no-confidence in her was overwhelmingly defeated in parliament.
Despite her survival, reports persisted that she was to be replaced by her own party before the end of the day.
"The Law and Justice (PiS) party political committee has proposed the candidature of Mateusz Morawiecki for prime minister," party spokeswoman Beata Mazurek told reporters.
Mrs Szydlo did not give a reason for resigning but said on Twitter: "The last two years – it was an extraordinary time for me and the service to Poland and Poles was an honour."
Mr Morawiecki, a respected former banker who speaks foreign languages, is credited with boosting a sales tax revenue that helps pay for popular social policies such as child subsidies.
Our correspondent says he represents the younger, moderate face of the party and may help improve Poland's tarnished image abroad.
Some other EU states, including Germany, have been dismayed by the Polish government's refusal to accept refugees under an EU relocation scheme and by its attempts to refashion the media and judiciary.