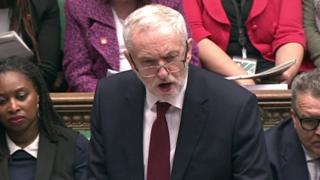 Hundreds of families have been issued with eviction notices by a landlord concerned about the impact of universal credit, Jeremy Corbyn has claimed.
The Labour leader, speaking at Prime Minister's Questions, said the families, in Lincolnshire, risk losing their homes over Christmas.
He urged Theresa May to "pause" the rollout of the controversial benefit while problems with it are fixed.
Mrs May said rent arrears had fallen by a third over the past four months.
But she would look at the case he had raised, adding that she had still not received details from him about a previous universal credit case he had raised at a past Prime Minister's Questions.
Labour claims the families in North East Lincolnshire have received the "Section 21" notices from a property firm ahead of next month's rollout of universal credit in the area.
Such notices give tenants notice that they may be evicted without further warning during a six month period.
Mr Corbyn said the letter said the property company "cannot sustain arrears at the potential levels universal credit could create".
"Will the prime minister pause universal credit so it can be fixed or does she think it is right to put thousands of families through Christmas in the trauma of knowing they're about to be evicted because they're in rent arrears because of universal credit?"
Universal credit merges six benefits for working-age people into one new payment.
The Department for Work and Pensions says universal credit will boost employment by about 250,000 once it is fully rolled out.
A spokeswoman said: "Under universal credit, people are moving into work faster and staying in work longer than the old system."