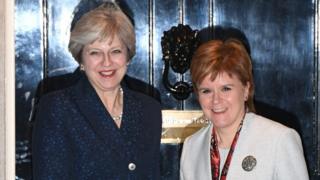 Scotland's first minister has described her face-to-face talks with the prime minister as "constructive and cordial".
But Nicola Sturgeon said she and Theresa May had failed to reach an agreement over the UK government's Brexit bill.
Mrs May indicated in September that she wanted to speak to Ms Sturgeon in a bid to break the deadlock between the two governments over Brexit.
The two leaders met for about 45 minutes inside 10 Downing Street.
They were also due to discuss the upcoming UK budget, and sexual harassment in politics.
The meeting was the first between Mrs May and Ms Sturgeon since March.
It came as MPs start to examine the EU Withdrawal Bill, a key piece of Brexit legislation which is at the heart of a dispute between the Scottish and UK governments.
The Scottish government is refusing to put the bill forward for legislative consent at the Scottish Parliament unless changes are made to protect devolved competencies as powers return from Brussels post-Brexit.
Ms Sturgeon claims the current proposals are a "power grab" by Westminster, and has accused the UK government of keeping the devolved administrations "substantially in the dark" on Brexit negotiations.
But Mrs May insists the devolved parliaments will gain "significant" responsibilities when the UK leaves the EU.
A series of talks between top ministers from the two governments has so far failed to break the deadlock.
Ahead of the Downing Street meeting, a spokeswoman for the Scottish government said Ms Sturgeon would be "seeking clarity" on Brexit and the Withdrawal Bill when she met Mrs May.
In September, the first minister said in an interview with New Statesman that she had found previous meetings with Mrs May "very frustrating".
Ms Sturgeon said she had found it "impossible to get any human connection" with the prime minister, adding: "This is a woman who sits in meetings where it's just the two of you and reads from a script."
As well as Brexit, Ms Sturgeon is expected to press her government's economic priorities ahead of UK Chancellor Philip Hammond's autumn budget, which he will unveil on Wednesday of next week.
Scottish Finance Secretary Derek Mackay, whose own draft budget will follow in December, has written to Mr Hammond urging him to ditch austerity cuts, halt the rollout of Universal Credit and provide more money to Scotland's farmers and railways while exempting the national police and fire services from VAT.
And the UK's two most prominent female political leaders were also expected to discuss the issue of sexual harassment and inappropriate behaviour at Westminster and Holyrood, which has seen ministers forced to resign from each of their governments.
UK Defence Secretary Michael Fallon and Scotland's Early Years Minister, Mark McDonald, both left their ministerial posts following complaints about their conduct.
Both Ms Sturgeon and Mrs May have called for better measures to crack down on misconduct and support victims.