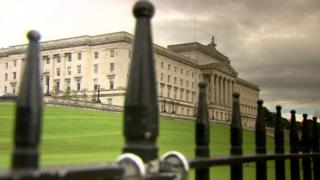 Northern Ireland's budget for 2017/18 has been published and shows an increase in health spending of 5.4%.
It will be passed into law at Westminster later this week after 10 months without a devolved executive at Stormont.
NI Secretary James Brokenshire said that public services would begin to run out of money if a budget was not in place by the end of November.
The budget numbers were recently shared with the local parties.
It comes after the Democratic Unionist Party (DUP) and Sinn Féin failed to reach a deal in political talks.
Overall, the amount of money available for day-to-day spending is up by 3.2%, meaning no real increase when inflation is considered.
---
Analysis: Julian O'Neill, BBC News NI business correspondent
Better late than never, Northern Ireland finally has a budget for the 2017-18 financial year.
It means a cliff-edge of running out of cash has been avoided.
Civil servants have been controlling the finances since the executive collapsed before a budget was set.
Overall, the allocation for day-to-day spending is up by 3.2%, or about £330m, on 2016-17.
However, because of inflation, the budget has really flat-lined in real terms.
The budget does not include any of the £1bn windfall that the DUP extracted for propping up the Conservative government; that is to come separately.
---
In April, indicative figures suggested the education budget would be cut, causing an outcry from teachers and parents.
However, the education budget is up by 1.5% compared to last year, the justice budget is down by 0.4% and the agriculture and environment budget is down by 3%.
Health economists usually estimate that health service spending needs to rise by an annual rate of 3% – 5% to cope with rising demand.
The Department of Finance has cautioned that the budget is not fully comparable to the 2016/17 budget due to timing differences.
The 2016/17 budget was published before the start of the financial year while this budget comes mid-year and includes in-year reallocations.
---
Analysis: Mark Devenport, BBC News NI political editor
Is this direct rule or not direct rule? It depends who you talk to.
The SDLP says it is direct rule, and blames the DUP and Sinn Féin.
The Alliance party says it is a "slippery slope" towards direct rule, but both James Brokenshire and Theresa May dismiss that.
Mr Brokenshire is fearful of "full-fat" direct rule because it would be very hard to get back out of it.
He might, therefore, try and get away with this halfway house solution, at least until the end of the year.
---
DUP deputy leader Nigel Dodds welcomed the budget bill move as the "right thing" to do in the absence of a deal to restore devolution.
He said the decision by the secretary of state is "not full blown direct rule".
The North Belfast MP also said that if a deal is not forthcoming to restore devolution, direct rule ministers of "some ilk will have to be appointed".
He said the failure to restore power sharing rests with Sinn Féin and that the DUP and other parties were ready to set up an executive "in the morning".
He added that the £1bn promised by the government for Northern Ireland as part of the Tory-DUP confidence and supply arrangement would be "detailed in the coming days".
However, Sinn Féin's Stormont leader said the reason for the budget was "the DUP opposition to a rights-based society".
Michelle O'Neill said that the UK government had been "complicit in this, backing the DUP's refusal to honour the commitments previously made and blocking the delivery of equality."
She also said her party had told Prime Minister Theresa May that direct rule was "not an option".
"These issues aren't going away. It is now the responsibility of the two governments to look to the provisions of the Good Friday Agreement and for a British-Irish intergovernmental conference to meet as soon as possible.
"We have sought urgent meetings with both the taoiseach and the British prime minister.
"The way forward now is for the two governments to fulfil their responsibility as co-guarantors of the Good Friday and St Andrews Agreements, to honour outstanding commitments, and to deliver rights enjoyed by everyone else on these islands to people here."
Mr Brokenshire has said he would be willing to withdraw the budget bill if an executive is formed before December.
SDLP leader Colum Eastwood said it was a "significant day" with "decisions being taken in London which should have been taken in Belfast".
Mr Eastwood said Mr Brokenshire would be delivering the Stormont budget prepared by former Sinn Féin finance minister Mairtín Ó Muilleoir.
In a call to the DUP and Sinn Féin on Friday, Prime Minister Theresa May told the parties that Monday's budget bill was "absolutely not an indication of direct rule".
Sinn Féin President Gerry Adams said he told the prime minister that direct rule was not an option and called for the establishment of an intergovernmental conference involving London and Dublin.