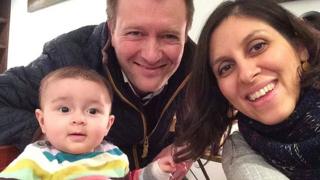 Nazanin Zaghari-Ratcliffe, the British-Iranian woman being held in Iran, has seen a specialist after finding lumps in her breasts, her husband has said.
Richard Ratcliffe also expressed concern that his wife appeared to be "on the verge of a nervous breakdown".
She was arrested during a visit to Iran in April 2016, accused of trying to overthrow the regime, which she denies.
Cabinet ministers Boris Johnson and Michael Gove have been accused of bungling the UK's handling of the case.
Mrs Zaghari-Ratcliffe's family have issued a statement about her condition, saying she had been "complaining of sharp stabbing pains in her breasts" for more than a year.
They said she had been given a mammogram by the prison's gynaecologist, which gave an inconclusive result.
She was given pain relief medication and vitamin pills and was to be seen by the specialist again next week, the family said.
The full details of the allegations against Mrs Zaghari-Ratcliffe have never been made fully public.
She maintains the purpose of her trip to Iran was to visit family.
Her husband, Richard Ratcliffe, spoke to Foreign Secretary Mr Johnson on the phone earlier. Afterwards he said the minister was trying to find time to meet him "in the next few days".
It came after Environment Secretary Michael Gove told the BBC he did not know what Mrs Zaghari-Ratcliffe had been doing in Iran when she was arrested.
He later said he would "take her husband's assurance" that she was on holiday.
Mr Gove had been trying to defend Mr Johnson, who last week suggested she had been training journalists on the trip.
Charity Thomson Reuters Foundation, who Mrs Zaghari-Ratcliffe has worked for, said it feared the remark could have doubled her sentence.
The foreign secretary has since said the UK government has "no doubt" that a holiday was the sole purpose of her visit to Iran.