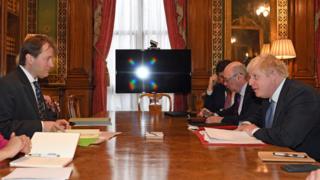 The government is to appeal for the release of a jailed British-Iranian woman from Iran on humanitarian grounds, according to her husband who met the Foreign Secretary.
Nazanin Zaghari-Ratcliffe has been held by Tehran since April 2016 after being accused of spying – charges she denies.
The meeting with Boris Johnson was arranged after he made comments that could double her five-year jail term.
The Foreign Office is considering if she will get diplomatic protection.
They described the meeting as "positive".
Richard Ratcliffe told a press conference after the meeting that he had raised the issue of giving diplomatic protection to his wife – which, under international law, allows a state to take diplomatic action on behalf of a national.
Earlier this week, Downing Street said it was "one of the options" being considered in the case.
Mr Ratcliffe said he thought the protection would be "important and helpful".
But he said the Foreign Office expressed reservations and would consider the issue with its lawyers.
"They have agreed to answer the questions and then for the lawyers to sit down and talk it through. Both legally and then also practically.
"But certainly, I think it is an important thing for us to be pushing for."
Mr Ratcliffe said they also spoke about a possible joint trip to Iran before the end of the year.
Mr Ratcliffe said Mr Johnson has no fixed date for his planned visit to Iran, but the Foreign Secretary was "keen" for him to travel with him.
He also spoke about and the health of Mrs Zaghari-Ratcliffe, who he said had found lumps in her breasts.
"She talks about being on the verge of a nervous breakdown. I absolutely believe that's true.
"I think it's important I don't exaggerate anything in the media and I'm not melodramatic, but she is in a difficult place."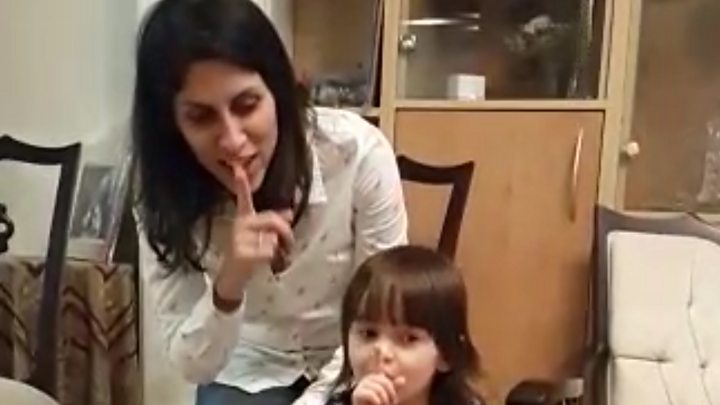 Mr Johnson previously told a Commons committee hearing that Mrs Zhagari-Ratcliffe was in Iran to train journalists.
Her family have always maintained she was on holiday with her daughter.
Mr Johnson apologised for the "distress" and "suffering" he had caused with the comments he made at the Commons Foreign Affairs Select Committee on 1 November, and retracted "any suggestion she was there in a professional capacity".
In an interview with BBC Radio 4's Today programme on Monday, Mr Ratcliffe said: "I think the best chance Nazanin has of coming home this side of Christmas is all of the weight of the Foreign Office and the foreign secretary being focused on doing that."
Earlier this week, a statement from the Foreign Office said that Mr Johnson had "made it clear that no stone should be left unturned" in securing the release of Mrs Zaghari-Ratcliffe.
"The Foreign Office remains very concerned about all our dual nationals detained in Iran and is doing everything it can in each of their cases, including trying to secure access to them and ensure their welfare," it added.