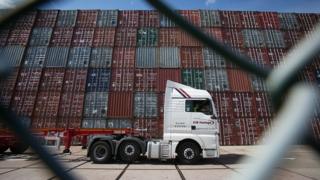 European business leaders will meet Prime Minister Theresa May later on Monday to voice concerns about the future of UK-EU trade.
Experts from groups including the CBI and BusinessEurope will stress the need for a transitional deal that preserves the status quo after Brexit.
They will urge the government to clarify the future relationship between the UK and the rest of the EU.
The next round of Brexit talks is due to start in mid-December.
They will meet Mrs May at No 10, as well as Business Secretary Greg Clark, Brexit Secretary David Davis and Economic Secretary to the Treasury Stephen Barclay.
The CBI and the Institute of Directors will be represented, as will business organisations from France, Germany, Spain, Italy, the Netherlands, Ireland, Sweden, Poland, the Czech Republic and Belgium.
There are concerns that future trade talks could collapse ahead of December's EU summit.
EU chief negotiator, Michel Barnier, has warned that the talks will only go ahead if the UK first clarifies its financial obligations to the EU.
Mr Davis has said the UK was "ready and willing" to engage with Brussels "as often and as quickly as needed".
Growing urgency
CBI director-general Carolyn Fairbairn told the BBC that it was an important meeting: "The urgency that's shared by business across Europe is growing by the day."
She said a CBI survey indicated that 10% of companies had already activated their contingency plans.
"A firm I spoke to in Belfast last year – who manufactures in Belfast – because of tariffs and red tape that would result from a no-deal Brexit, they have pulled together plans for moving to France."
The pace of planning by firms was picking up, she added, with about 60% of firms saying they would have implemented contingency plans by the end of next March.
Bernard Spitz, a director of Medef, France's biggest business lobby group, said his organisation had always said "Brexit was bad for the UK and for Europe". He said agreement on a transition deal was important not just for UK firms, "but for firms across the European Union".
"We know that for us, especially for the French, the relationship with the UK is absolutely key, but if business continuity is important, what is even more important is the integrity of the European market."
Property developer Richard Tice, co-founder of Leave Means Leave, told the BBC time was very short.
He said that if there was no sign that a trade deal was going to be reached, "then actually we would be better to give certainty to everybody that actually we're going to do a different type of deal which is to go to WTO [World Trade Organization rules]".
"These European Union business groups – the message they've got to take back to their governments, to take back to Brussels, is you've got to get on with it and either start talking about a trade deal or accept that everybody must get on and start planning for a different type of deal."
Shared input
The business leaders are set to tell the prime minister they want real progress on a future free trade agreement, as well as a transitional arrangement until that can be implemented.
Mrs May is expected to reiterate the UK's commitment to securing an implementation period of about two years once the country leaves the EU in March 2019.
She will also ask the business experts to share their input on how the UK and EU can continue to thrive side by side in industry and economic development.
BBC business editor Simon Jack says some UK business leaders in favour of Brexit are concerned that a transition period maintaining the current arrangements will delay and frustrate Britain's attempts to strike new independent deals.
He says that while some hope a deal with the EU can be achieved, many are concerned that the lack of progress plays into the EU's hands.
They are therefore recommending the government uses its time to prepare for a "no deal" scenario that would see the UK trade with Europe on the same terms – and tariffs – as the rest of the world.