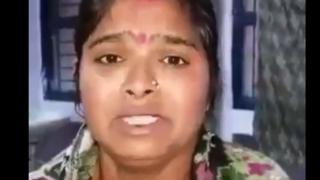 A woman activist was allegedly beaten and paraded naked for fighting against illegal liquor trade in the Indian capital, Delhi.
The incident took place on Thursday when the woman and her colleagues were on a night patrol to help identify illegal shops.
The Delhi Commission for Women, with whom the woman was a volunteer, has strongly condemned the attack on her.
Police said the woman was assaulted but denied she had been paraded naked.
In a video that has gone viral, the victim claimed that she was "dragged and disrobed" for opposing those who are running illegal liquor dens.
The commission put out a statement in which it said the woman volunteer had "marks of iron rods on her body". The statement also alleged that she was assaulted by people who were selling illicit liquor.
As criticism on social media grew, police tweeted that the matter was being investigated. They described the incident as a "quarrel by some ladies".
Swati Maliwal, president of the women's panel, tweeted that it was "shameful" that the police were terming the incident as a mere quarrel.
Police told the Hindustan Times newspaper that the woman's clothes had been "torn a little" in the scuffle and that none of the assailants were men.
Delhi Chief Minister Arvind Kejriwal said it was "utterly shocking and shameful" that such an incident had occurred in the capital.
Many Indians die every year from drinking illegally brewed alcohol.