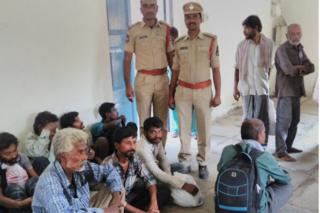 Officials in Hyderabad in southern India plan to offer citizens 500 rupees ($7.60; £5.80) to identify beggars as part of an initiative to declare the city "beggar free" after 15 December.
The city's police commissioner has also declared a two-month ban on begging.
Critics say the move is due to a trip by US president's daughter Ivanka Trump, but officials deny this.
The past week has seen police in the city round up beggars outside places of worship, and bus and railway stations.
They are being sent to a rehabilitation centre near Hyderabad's central prison.
Ms Trump will visit Hyderabad for the Global Entrepreneurship Summit on 28 and 29 November.
Hyderabad similarly saw beggars temporarily bundled out of the city when former US President Bill Clinton visited in March 2000.
"This 500 rupees is an incentive announced by the prisons department, one of the agencies involved in the drive to make Hyderabad beggar-free. The aim is to make the Hyderabad public a stakeholder in effective implementation of the prevention of begging act," M Sampat who heads the rehabilitation centre, told the BBC.
"The prisons department plans to train the beggars so that they can work at the fuel stations where we provide manpower," he added.
The state government has said that they have picked up 366 beggars so far. Of those, 128 chose to stay back at the rehabilitation centre and 238 returned home, promising not to beg again.
"We call ourselves a smart city and yet we have the begging mafia pushing women on to the streets with infants intoxicated with sedatives while they beg," Dr G Ramaiah, a Hyderabad-based non-governmental organisation, which works for a beggar-free society, told the BBC.
"Most say they are not beggars when they are brought here," the director-general of Telangana prisons, VK Singh, told the BBC.
"We let off the able-bodied beggars after they give us an undertaking that they will not beg again. We record their biometric data and are making Aadhaar cards [biometric identification cards] for them to help us identify [them] in the future."
Officials say the drive has caused a significant number of the estimated 5,000 beggars in Hyderabad to move out to nearby cities.
The challenge, they say, will be to ensure they do not return after the ban ends on 7 January 2018.