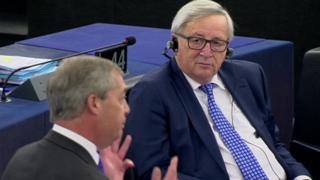 The UK will come to "regret" the decision to leave the EU, European Commission president Jean-Claude Juncker has warned.
Addressing the European Parliament, Mr Juncker was cheered by Eurosceptic MEPs as he noted the UK's departure was due on 29 March, 2019.
He said the time would come "when you will regret your decision".
MEPs' Brexit representative, Guy Verhofstadt, said the UK had to move beyond the "slogans and sound bites".
But he said that the UK and EU were "very near" to an agreement on citizens' rights post Brexit.
Mr Juncker told MEPs in Strasbourg there was "increasing urgency" to negotiate the UK's withdrawal from the EU.
He did not want EU citizens to "fall victim to Brexit", he said, saying it was important to secure their rights.
Mr Juncker repeated the EU side's line that "cherry-picking is not going to be possible" in the future trade relationship between the UK and EU.
"I would rather have preferred Britain not to have decided to leave the European Union, but anyone who leaves the European Union has to know, frankly, what this means," he said.
"If you decide to jettison, leave behind, the common agreements and rules, then you have to accept that things cannot remain as they are."
He urged Theresa May to give "more clarity on how the UK sees its future relationship with the EU".
But former UKIP leader Nigel Farage argued that Mrs May should channel US President Donald Trump when she meets EU leaders next week.
Referring to the dispute with the US over steel and aluminium tariffs, he said the UK could sign its own trade deal with the US "in 48 hours" if it was not a member of the EU.
He urged Mrs May to abandon plans for a transition period post Brexit, saying the UK voted "to leave this organisation", the customs union and single market.
"So please Mrs May at this summit next week, do what Trump has done, stand strong against the European Commission, against the unelected bullies," he said.