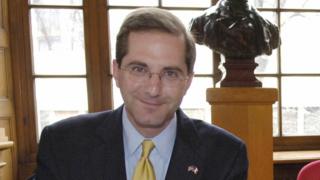 US President Donald Trump has nominated a former pharmaceutical executive to serve as his next health secretary.
Alex Azar was deputy health secretary under George W Bush and a top executive of pharmaceutical company Lilly USA until January this year.
"He will be a star for better healthcare and lower drug prices," Mr Trump said in a post on Twitter.
Mr Azar would replace Tom Price, who resigned in September after it emerged he spent up to $1m on private travel.