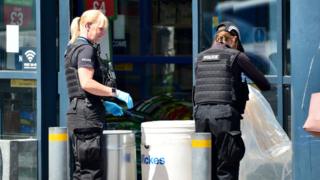 Three men have been arrested after a three-year-old boy was seriously injured in a suspected acid attack.
The boy was "deliberately attacked" at Home Bargains in Worcester at 14:15 BST on Saturday, West Mercia Police said.
The men, aged 22, 25 and 26, were arrested in London on suspicion of conspiracy to commit grievous bodily harm.
The boy has been discharged from hospital after being treated for serious burns to his arm and face.
The "long-term implications" of the boy's injuries are unknown, the force said.
Ch Supt Mark Travis said previously the motive for the attack is so far "unclear".
The three arrested men were detained at an address in Walthamstow, the Metropolitan Police said.
A 39-year-old man from Wolverhampton arrested on Sunday on suspicion of conspiracy to cause grievous bodily harm remains in police custody.
The boy was in a pushchair with his family at Shrub Hill Retail Park, in Tallow Hill, when "acid or a corrosive substance" was either "thrown at or sprayed towards him", police said.
Ch Supt Travis said the family is receiving specialist medical and police support.
"We are hoping the injuries won't be life changing. They are serious and at the moment it's just that little bit too soon to say, but things look positive.
"Everything that can be done to provide support is being done, support for the family has been great.
"I absolutely understand the community will be concerned, these are life changing incidents, this is something that lasts forever and we need to send a message that this is unacceptable."
Robin Walker, MP for Worcester, described the attack as "horrific".
"The shock will be universal. Anyone conducting such an attack on a small child is just appalling," he said.