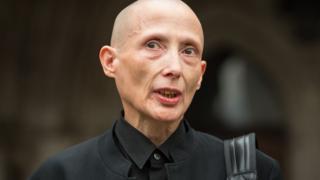 A campaigner has been given the go-ahead to bring a High Court challenge against the government over gender-neutral passports.
Christie Elan-Cane wants passports to have an "X" category, which could be used by those who consider themselves neither fully male or female.
The campaigner has fought since 1995 for this right.
At a hearing in London, Mr Justice Gilbert granted Christie Elan-Cane permission to bring a judicial review.
A full hearing of the challenge to the government's policy will now be held on a date to be fixed.
At the moment UK passport holders have to indicate whether they are male or female.
Last month, Canada became the latest country to offer citizens gender-neutral travel documents.
Australia, Denmark, Germany, Malta, New Zealand, Pakistan, India and Nepal already have a third category.
Granting the petition, Mr Justice Gilbert said "I am satisfied this case passes the test for the grant of permission, and is arguable."
Before the case Christie Elan-Cane wrote "My decision to pursue change through legal avenues was due to the political process having been tried and exhausted as the UK government evidently had no intention to seriously consider the issue".