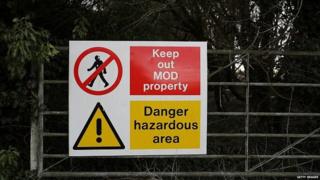 The UK is to build a new chemical weapons "defence centre" to protect itself from what it says is the growing threat from Russia and North Korea.
Defence Secretary Gavin Williamson is to announce the £48m facility will be located at the government's Defence Science and Technology Laboratory.
Scientists at Porton Down in Wiltshire helped identify the nerve agent used to attack ex-Russian spy Sergei Skripal.
Thousands of British troops are also to be vaccinated against anthrax.
In a speech on Thursday, Mr Williamson will say the "shocking and reckless" attack on Mr Skripal and his daughter illustrated the increasing dangers the UK faced from chemical weapons.
The UK is expelling 23 Russian diplomats and taking a range of other measures in response to what it said was the Russian state's culpability for the use of a military grade nerve agent on the duo in Salisbury.
Moscow has hit out at what it described as the UK's unacceptable provocations and threatened reprisals.
Mr Williamson will say the UK leads the world in research into chemical, biological and radiological warfare but that this expertise needs to be developed further to confront potential hostile activity by states and individuals.
"We know the chemical threat doesn't just come from Russia but from others," he is expected to say.
"I can announce we will be strengthening this capability by investing £48m in a new Chemical Weapons Defence Centre to ensure we maintain our cutting edge in chemical analysis and defence."
'Competitive advantage'
He will also announce that, as a precaution, thousands of British troops will be vaccinated against anthrax, a spore-producing bacterial disease used in a series of bio-terror attacks in the US in 2001.
British troops who are held at high-readiness will be offered the vaccine on a voluntary basis so they are ready to deploy to areas where the risk of this type of attack exists.
Mr Williamson, who took over the role in November, is currently reviewing Britain's defences amid calls from Conservative MPs for a moratorium on cuts to the armed forces and defence capability.
The BBC's defence correspondent Jonathan Beale said Mr Williamson will make it clear Britain must invest more in defence to counter both conventional and emerging threats like cyber warfare.
"As Brexit beckons, the eyes of the world are on us. Rest assured our adversaries will be watching even more closely than our allies," Mr Williamson will say.
"This is our moment to retain our competitive advantage."
The Defence Science and Technology Laboratory supplies specialist science and technology services to the armed forces as well as expert advice and analysis to government.
UK to build new £48m chemical weapons defence centre}