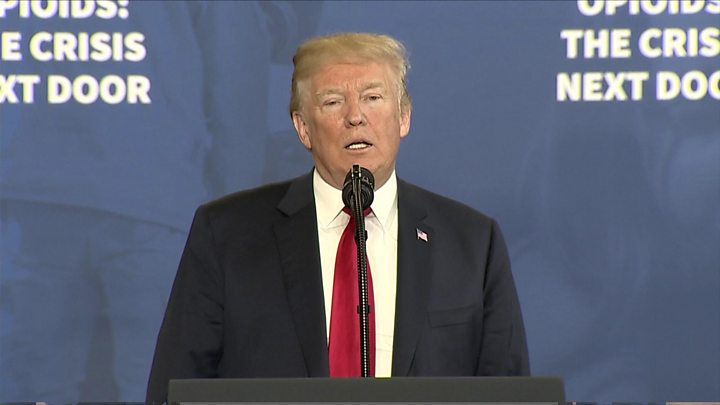 US President Donald Trump has called for drug traffickers to face the death penalty as part of his plan to combat the US painkiller-addiction epidemic.
He outlined the capital punishment proposal during a speech in Manchester, New Hampshire, a state hard hit by the opioid crisis.
Mr Trump also announced measures to tackle over-prescription and insufficient access to treatment.
The US opioid crisis claimed 63,600 lives in 2016, say health officials.
Mr Trump was cheered on Monday as he told a crowd: "If we don't get tough on the drug dealers we're wasting our time.
"And that toughness includes the death penalty."
Some 2.4 million Americans are estimated to be addicted to opioids, a class of drugs that includes prescription painkillers and heroin.
Mr Trump previously suggested the "ultimate" punishment for traffickers at a rally in Pennsylvania this month.
Doesn't this 'get-tough' approach work elsewhere?
"Take a look at some of these countries where they don't play games, they don't have a drug problem," said Mr Trump on Monday.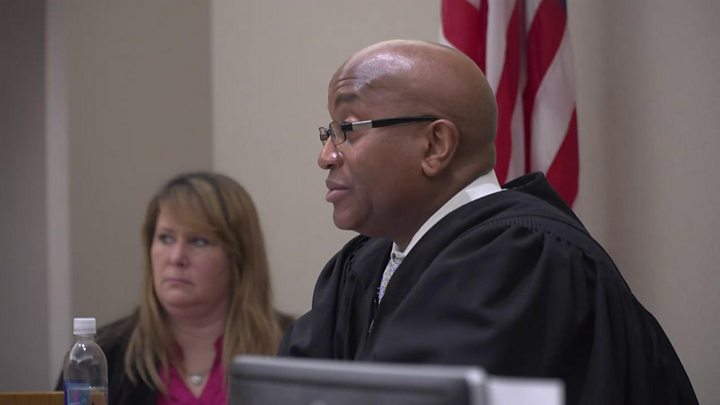 He has previously praised Philippines President Rodrigo Duterte, whose war against drug dealers has led to extra-judicial killings.
Philippines police say they have killed 4,100 drug suspects as part of the campaign.
But human rights groups say the real death toll is triple that number, and the International Criminal Court is investigating.
Advocates of capital punishment for drug dealers credit it to Singapore's low drug use.
But Iran also imposes the death penalty for drug use, yet it is plagued by opiate addiction.
What's the legality of Trump's plan?
Outlining its plan, the White House said the Department of Justice would seek the death penalty against drug traffickers "when it's appropriate under current law".
Drug-related murder is already a capital offence in the US, but no one has ever been executed using those rules.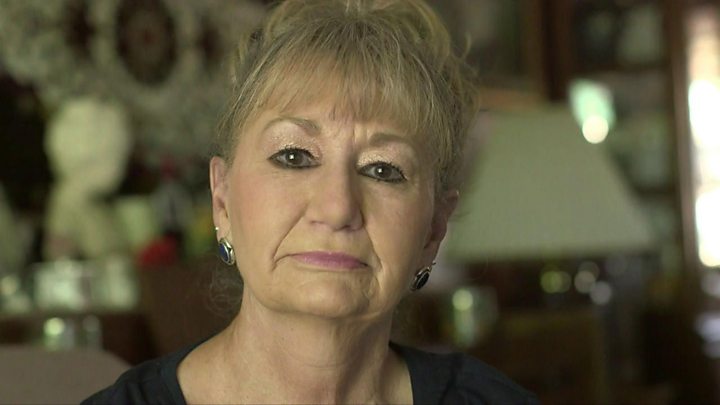 Mr Trump said on Monday: "We have to change the laws and we're working on that now. The Department of Justice is working very hard on that."
But any attempt to change the law to introduce the death penalty for drug trafficking would require an act of Congress.
It would probably fall afoul of previous Supreme Court rulings on proportional punishment.
The US president seemed to accept on Monday that his policy faced an uphill battle.
"The ultimate penalty has to be the death penalty," he said. "Now maybe our country's not ready for that. It's possible, it's possible."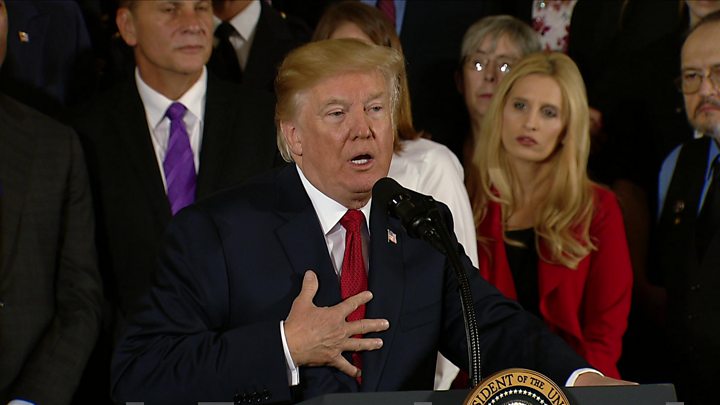 What else does Trump's opioid plan involve?
The Republican president said his administration would amend government healthcare programmes in order to cut opioid prescriptions by a third over the next three years.
He opened the way for a crackdown on negligent physicians and pharmacies, adding that implicated pharmaceutical companies could face litigation.
The president said his plan would also require electronic data for most international mail shipments to deter the posting of illicit opioids.
Mr Trump said he wanted Congress to approve $6bn ($4.2bn) in new funding in 2018-19 to help fight the opioid crisis.
More on the US opioid crisis