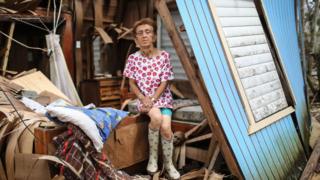 US President Donald Trump has griped about emergency relief efforts in hurricane-ravaged Puerto Rico, saying federal aid cannot continue "forever".
In tweets, he accused Puerto Rico of a "total lack of accountability", adding that "electric and all infrastructure was disaster before hurricanes".
The island, whose 3.4 million residents are US citizens, is 90% without power, some three weeks after Hurricane Maria.
Congress is weighing a multi-billion dollar aid package for the territory.
Lawmakers are expected to approve $36.5bn (£28bn) in emergency storm relief for Puerto Rico, Florida, Texas and the US Virgin Islands, as well as wildfire-ravaged California.
In Thursday's tweets, the US president noted it was up to "Congress to decide how much to spend".
But he added: "We cannot keep FEMA, the Military & the First Responders, who have been amazing (under the most difficult circumstances) in P.R. forever!"
It comes a week after US Vice-President Pence pledged the administration would be with Puerto Rico "every step of the way", as he visited the island.
The storm killed at least 45 people in the US territory, while more than 100 others remain unaccounted for, say Puerto Rico officials.
The island is saddled with about $72bn in pre-hurricane debt that is being overseen by a federally created oversight board.
---
When the chequebook comes out, empathy ends
Analysis by Anthony Zurcher, BBC North America reporter
Imagine a devastating hurricane hits New York City, and the president repeatedly notes how bad things were there before the disaster. Or, three weeks after an earthquake levels Los Angeles, he says the government won't provide aid "forever".
There would be outrage. It's difficult to even imagine such responses.
That, however, is how Donald Trump is handling hurricane-ravaged Puerto Rico. For the president, the US territory – occupying a political no-man's land between US statehood and independence – is different.
When the chequebook comes out, empathy ends and reality sets in. The administration and Congress are in the middle of tough negotiations over government spending and tax reform. Coming up with billions for Puerto Rico relief is an unwelcome challenge.
So the president has said there is a limit to the help available for these taxpaying US citizens. Things were bad before – and they may stay that way.
---
Mr Trump's tweets provoked a swift backlash from some Democratic lawmakers, who accused him of preparing to abandon US citizens.
"There is still devastation, Americans are still dying. FEMA needs to stay until the job is done," Senate Democratic Leader Chuck Schumer replied on Twitter, using the acronym for the Federal Emergency Management Agency.
Puerto Rico-born congresswoman Nydia Velazquez, another New York Democrat, tweeted that Mr Trump's latest comments were "outrageous, indefensible and irresponsible".
"We will not allow our government to abandon our fellow citizens," she wrote.
President Trump visited the US territory last week, where he told residents that recovery efforts had "thrown our budget a little out of whack".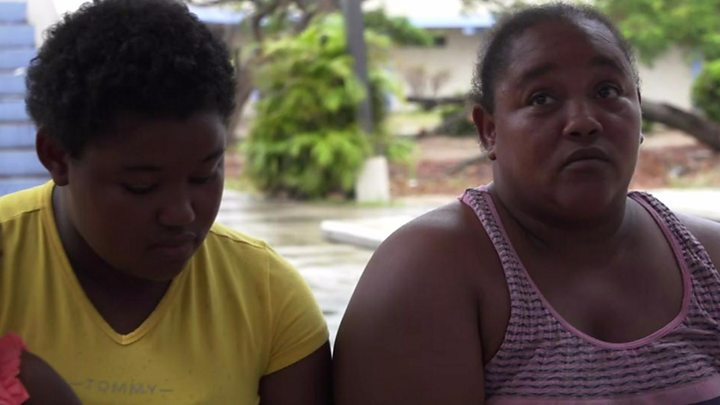 He also told the islanders they should be "very proud" that the death toll was not as high as a "real catastrophe" like Hurricane Katrina, which devastated New Orleans in 2005.
The US president was pilloried by local officials after he threw rolls of paper towels at residents during his trip.
Carmen Yulin Cruz, mayor of the Puerto Rican capital San Juan, described that incident as "terrible and abominable".
But Mr Trump later depicted the outrage as confected, insisting to the Trinity Broadcasting Network that the crowd "were having fun" as he distributed "these beautiful, soft towels".