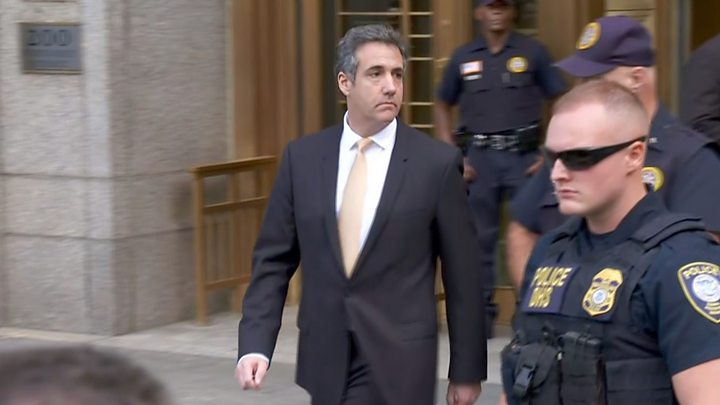 US President Donald Trump's former lawyer Michael Cohen has pleaded guilty in a Manhattan court to violating campaign finance laws.
He said he did so at the direction of "the candidate", for the "principal purpose of influencing [the] election".
Mr Cohen's admission was related to hush money paid to Mr Trump's alleged mistresses.
The 51-year-old admitted eight counts, including tax and bank fraud in a plea deal with prosecutors.
Mr Trump ignored questions about Mr Cohen as he arrived on Tuesday evening for a pre-scheduled rally in West Virginia.
The White House also declined to comment.
The plea came as a jury in Alexandria, Virginia, convicted former Trump campaign chairman Paul Manafort of bank and tax fraud charges.
What happened in court?
Mr Cohen said he had been directed by "a candidate for federal office" – presumed to be Mr Trump himself – to break federal election laws.
The indictment against Mr Cohen carries up to 65 years in prison.
But his plea deal includes a much more lenient custodial sentence of up to five years and three months, said Judge William Pauley.
Mr Cohen has pleaded guilty to:
Five counts of tax evasion
One count of making false statements to a financial institution
One count of wilfully causing an unlawful corporate contribution
One count of making an excessive campaign contribution at the request of a candidate or campaign
His sentencing was set for 12 December. He was released after posting a bail of $500,000 (£390,000).
Reporters in court said Mr Cohen's voice quavered as he answered routine questions from the judge.
He was asked whether he had consumed any alcohol or drugs before making his guilty plea.
Mr Cohen told the judge he had only had a glass of 12-year-old Glenlivet, a single-malt scotch, with dinner the night before.
---
'Lock him up!'
Nick Bryant, BBC News, in court
This was the legal summer blockbuster that journalists had been waiting months for, and in terms of courtroom drama and potential political impact, the appearance of Michael Cohen, Donald Trump's one-time Mr Fix-it, didn't disappoint.
It was his admission that he knowingly broke campaign finance laws that was by far the most politically explosive.
It was extraordinary to hear him tell the court that he had done so in co-ordination with and at the direction of the candidate.
Though he did not mention his name – or those of the women in question – the candidate is, of course, his former boss, Mr Trump.
Though Mr Cohen has admitted guilt, he has not agreed as part of the plea agreement to co-operate with federal prosecutors, either in New York or those working on the investigation led by the special counsel Robert Mueller.
He left court to chants of "lock him up" from a few of his fellow New Yorkers.
---
What did prosecutors say?
Speaking to reporters outside court, a prosecutor said Mr Cohen's crimes were "particularly significant" because he is a trained lawyer.
Robert Khuzami, the deputy US attorney for the Southern District of New York, said: "Mr Cohen disregarded that training, disregarded that tradition and decided that he was above the law, and for that he will pay a very, very serious price."
Federal investigators have been scrutinising Mr Cohen's business activities for months, including a taxi business owned by him and his family.
Mr Khuzami said Mr Cohen had failed over the past five years to report income on $1.3m from his taxi business, $100,000 from brokerage commissions, and $200,000 from consultancy fees.
He said Mr Cohen had provided "sham" invoices to the campaign for legal fees that he allegedly provided last year.
The prosecutor also said Mr Cohen had sought reimbursement for his "excessive campaign contribution" by submitting the bogus invoices to the campaign.
The plea deal does not necessarily entail that Mr Cohen is co-operating against the president.
It could simply mean he has agreed to plead guilty in order to spare both sides a lengthy trial.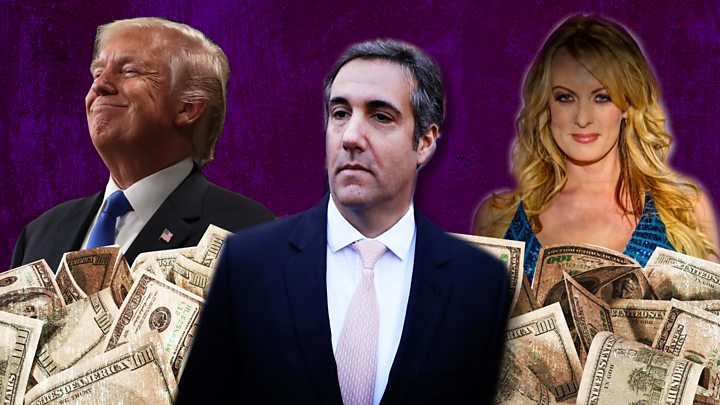 Why was hush money paid?
Porn star Stormy Daniels says she was paid $130,000 (£100,675) by Mr Cohen just days before the 2016 election to keep quiet about a affair she says she had a decade earlier with Mr Trump.
In May, the president admitted he had reimbursed Mr Cohen for the payment, after having earlier denied any knowledge of it.
Mr Cohen also recorded a conversation with Mr Trump two months before the election in which they discussed buying the rights to a kiss-and-tell story by former Playboy model Karen McDougal, who says she had an affair with Mr Trump.
Ms McDougal is referred to in court documents as "Woman-1", while Ms Daniels is "Woman-2" and "an adult film actress".
Undisclosed payments to bury embarrassing stories about a political candidate can be treated as a violation of US campaign finance laws.
The lawyer for Ms Daniels – who is suing both Mr Trump and Mr Cohen for defamation – tweeted that today's developments boosts her case against the president.
---
It could get worse for Trump
Analysis by Anthony Zurcher, BBC Washington
Back in July, Donald Trump tweeted that Michael Cohen might be "trying to make up stories in order to get himself out of an unrelated jam".
It turns out, however, that jam is very much related to the president.
Mr Trump has denied having any knowledge of pre-election payments to women alleging that they had affairs with him. On Tuesday, in a Manhattan courtroom, Mr Cohen effectively said the president is lying. The candidate, he said, had ordered the transactions – and then admitted that the undisclosed payments constituted a violation of campaign finance law.
If that's bad, it could get worse. As Mr Trump's long-time lawyer, fixer and business associate – who was involved in 2015 and 2016 negotiations to build a Trump tower in Moscow, among other dealings – Mr Cohen may have information of interest to Robert Mueller's special counsel team. Now that he is facing prison time, Mr Mueller and company could come calling again.
For the past few months Mr Cohen has taken an increasingly adversarial attitude toward Mr Trump, a man for whom he once said he would take a bullet. Now he is implicating the president in the commission of a campaign-related crime.
Is this just the start? With a sentencing hearing set for the end of this year, Mr Cohen has plenty of time to think about next moves.
---
How did Trump and Cohen's lawyers react?
Mr Cohen's lawyer, Lanny Davis, said after Tuesday's court hearing that his client was living up to his vow in an interview last month to put his loyalty to family and country above his old boss.
Mr Davis said: "Today he stood up and testified under oath that Donald Trump directed him to commit a crime by making payments to two women for the principal purpose of influencing an election.
"If those payments were a crime for Michael Cohen, then why wouldn't they be a crime for Donald Trump?"
But Rudy Giuliani, a lawyer for Mr Trump, told reporters: "There is no allegation of any wrongdoing against the president in the government's charges against Mr Cohen.
"It is clear that, as the prosecutor noted, Mr Cohen's actions reflect a pattern of lies and dishonesty over a significant period of time."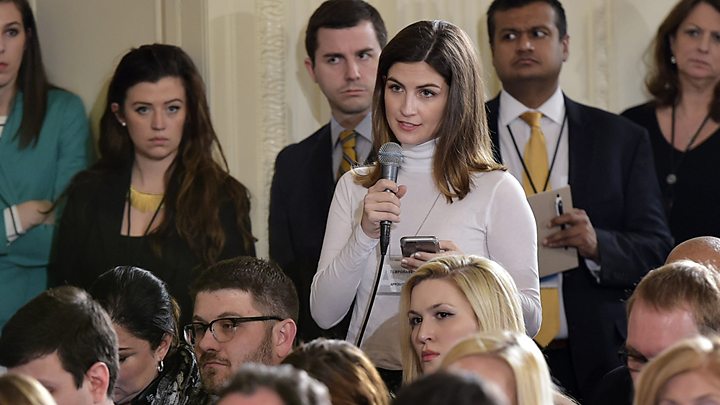 How did the case come about?
Mr Cohen worked at the Trump Organization for more than a decade and continued to serve as Mr Trump's personal lawyer and fixer after the election.
The FBI seized a number of files in April from Mr Cohen's office and a hotel room used by him in New York.
They conducted the raid reportedly following a tip-off from the team of special counsel Robert Mueller.
Mr Mueller is investigating whether Trump campaign aides colluded with alleged Russian attempts to sway the 2016 presidential election his way.
The FBI swoop outraged Mr Trump, who complained that it was an "inconceivable" violation of attorney-client privilege.
The president has distanced himself from Mr Cohen since he left his post as his personal lawyer in May.