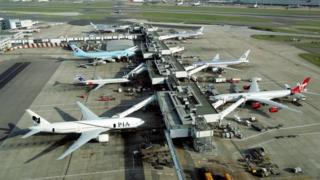 The SNP could refuse to back Heathrow expansion in a key Commons vote on Monday, BBC Scotland has learned.
A senior party source said it had not been convinced by the case for a third runway.
The SNP had been expected to back the UK government in the vote.
But the source said the party had been concerned in recent weeks about a lack of detail about how benefits would be delivered.
It now appears likely that the SNP's 35 MPs will abstain or possibly vote against the plans, although no final decision has been taken.
The Scottish government has previously backed Heathrow's bid for a third runway, saying it would bring economic benefits for Scotland.
However, the SNP source said: "The government might well find out on Monday that they have run out of goodwill from the SNP over this.
"They have only themselves to blame for that."
More than 40 Labour MPs have backed expansion – meaning the government is unlikely to be defeated.
The UK government faces opposition in its own ranks, with a number of Conservatives who represent seats in Heathrow's flight path expected to rebel.
Last week junior trade minister Greg Hands resigned from the government to oppose expansion of Heathrow Airport.
Mr Hands, who represents the Chelsea and Fulham constituency in London, said he had pledged to oppose the new runway at the 2017 election.
The highest profile opponent of Heathrow expansion in the cabinet is Boris Johnson, the foreign secretary, who once pledged to lie down in front of bulldozers to stop it happening.
But he is scheduled to be out of the UK on Monday so will not be attending the vote in the House of Commons.
Labour is also divided on the controversial issue, with members of the party's leadership, such as shadow chancellor John McDonnell, opposed to it, but high profile trade union backers in favour.
The party's MPs are being allowed to vote however they want to on the issue.
Campaigners argue that a new runway will breach the UK's legal limits on air pollution and increase noise pollution with an extra 700 planes a day.