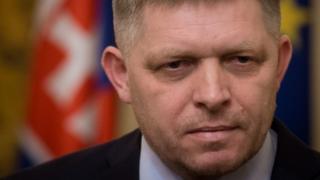 Slovak Prime Minister Robert Fico has said he is prepared to resign if the president accepts that the current coalition can continue for the rest of its term without early elections.
Mr Fico said he was ready to present a candidate for PM from his party.
It comes amid a political scandal caused by the murder of a journalist.
Jan Kuciak was investigating government corruption when he was killed. His fiancée, Martina Kusnirova, was also murdered in an attack at their home.
The couple were found dead last month.
"Today I have offered my resignation to the president of the republic," Mr Fico told a news briefing. "If the president accepts it, I am ready to resign tomorrow."
Interior Minister Robert Kalinak resigned two days ago, bowing to pressure from a coalition partner, the Most-Hid party.
The killings have gripped Slovakia, leading to calls for an investigation and anti-government protests in Bratislava on Friday which were thought to be the largest in the country since the fall of communism in 1989.
Mr Kuciak had been working on a piece linking high-level political corruption in Slovakia with Italian mafia before he was killed.
Kuciak claimed that Italian businessmen with links to the Calabrian organised crime syndicate 'Ndrangheta had settled in eastern Slovakia, and had spent years embezzling EU funds.
Slovakia's President Andrej Kiska called for a "radical reconstruction" of the government or fresh elections last week, after all seven suspects arrested in connection with the murders were released without charge.
One of the men released was an Italian who had done business deals with officials close to Mr Fico.
The week before, Maria Troskova, the prime minister's chief state adviser, and Viliam Jasan, the secretary of the state security council, quit amid allegations about past dealings with the man.
In a joint statement, the pair denied wrongdoing. They said they were stepping down during the investigation so their names would not be used in a political battle against Mr Fico.
The third party in the coalition, the Slovak National Party, announced after the resignation that they would want early elections should Most-Hid stop supporting Mr Fico, or if Mr Fico lost his majority in parliament.
Slovakia PM Robert Fico 'ready to quit' over Jan Kuciak murder