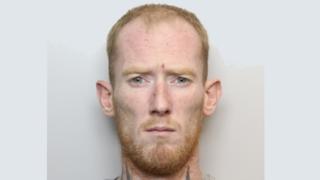 A man has been jailed for life for trying to kill his three children and step-daughter by hitting them with a hammer then crashing a car into a wall.
Owen Scott, 29, of Fawley, Hampshire, admitted four counts of attempted murder and dangerous driving at Sheffield Crown Court, after the crash near Penistone, South Yorkshire.
Two girls, aged seven and eight, and two boys, aged 21 months and nine months, were seriously injured.
Scott will serve at least 14 years.
As a result of her injuries, one of his daughters will be wheelchair-dependent for the rest of her life.
She was left partially paralysed and remains in hospital, having lost a large section of her skull in the hammer attack.
'Damaged irrecoverably'
Scott's other children also suffered severe injuries, and are still recovering, the court heard.
Both the boys have to wear protective helmets.
The court was told Scott had attacked the children in the car during a cocaine-induced psychotic episode.
He then drove at 92mph into the wall of the Travellers Inn, at Oxspring, on the A629.
The judge, Mrs Justice O'Farrell, told Scott: "You will have to live for the rest of your life knowing that you have damaged, in some cases irrecoverably, the health, both physically and psychologically, of your children."
The court heard Scott had picked up the children – who lived with his ex-partner near Southampton – and taken them on a two-day trip around the country.
It heard Scott had been a loving father to his children and his stepdaughter even after the breakdown of his relationship with his former partner.
Prosecutor Simon Keeley QC told the court Scott was convinced he was being chased by a Southampton-based gang who intended to harm him and his children.
Defending, Michelle Colborne QC, said Scott's intention was to kill the children "to save them from a worse fate".
'Utterly shocking'
Det Ch Insp David Stopford from South Yorkshire Police said it was one of the most harrowing cases he had ever worked on.
He said: "The ordeal those young children were subjected to was utterly horrendous and I'm pleased that Scott has today been jailed for a significant length of time."
"Three of the four children are now recovering at home with their family.
"One of the children, a seven-year-old girl, is still receiving treatment in hospital today but we are hopeful she will soon be able to be at home with her family and her siblings," he added.
Police said Scott had travelled from Hampshire with the children overnight, but his reasons for going to Barnsley were still unknown.
Peter Mann, from the Crown Prosecution Service, said: "This was a serious and determined effort to kill four young children.
"Medical specialists concluded that Scott inflicted multiple, deliberate blows upon them consistent with a hammer attack. The sheer ferocity of the attack and the appalling nature of the children's injuries is utterly shocking."
The attack took place on 23 August while Scott was experiencing a drug-induced psychotic episode.
Scott admitted four counts of attempted murder and one count of dangerous driving in January.
Miss Colborne QC said Scott had "little or no memory" of what had happened.
She said although he was found to be suffering from "short-lived psychosis" at the time, this did not amount to a psychiatric defence to attempted murder.