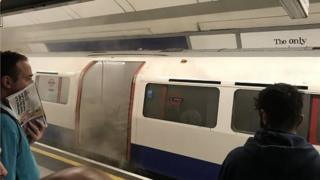 Oxford Circus Tube station in central London has been evacuated due to a fire.
Four people have been treated for smoke inhalation and London Ambulance Service said it had taken two people to hospital as a precaution.
The station was evacuated shortly before 09:00 BST. Trains are not stopping at the station.
Pictures on social media show smoke billowing out from a Bakerloo line train sitting on a platform.
London Fire Brigade crews are at the station and are investigating.
BBC journalist Katie Silver was in the station at the time. She said: "I was coming off the Victoria Line but there was smoke as you walked past the Bakerloo Line and there was the smell of smoke and burning plastic.
"We were all being evacuated. Some people were running up the escalator but they had shut certain exits, although it was very orderly.
"When we got out there were a couple of people crying. I think they were scared."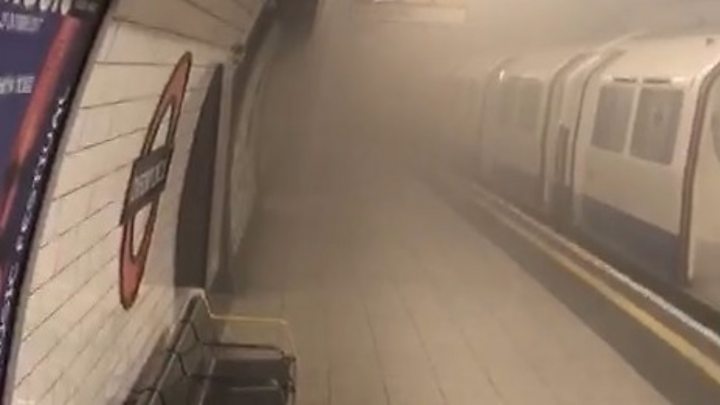 London Fire Brigade said it was called at 08:47 BST to reports of "smoke issuing" from Oxford Circus.
British Transport Police said the incident was not currently being treated as suspicious.
Tom Singer, who was at Oxford Circus station at the time, told the BBC's Victoria Derbyshire programme he saw a smoke-filled Bakerloo line Tube train coming into the platform.
"As we were waiting on the platform you could smell something coming in, as the train was coming in, and as it got closer the smell got stronger and stronger."
He added that as the train came in it was clear passengers had been moved from one of the carriages, and then when the train came to a stop people "came pouring out".
He said: "There were a lot of people with hands over mouths and coughing a lot coming off of the train.
"It looked like it was just one carriage that had the problem."
He said he also saw smoke coming from underneath the Tube train.