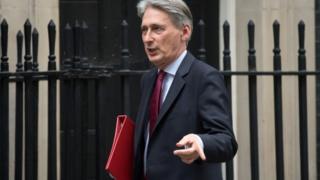 Taxpayers' money will not be spent on preparing for a "no-deal" Brexit until the "very last moment" Chancellor Philip Hammond has suggested.
He told MPs he was preparing for all possible outcomes, including "no deal", and would make money available in a "timely" manner when needed.
But he said any money spent now would detract from spending on key areas like health, social care or education.
Some Tory MPs believe more planning should be done for a no deal scenario.
After the prime minister revealed this week that the government had plans for a Brexit scenario without a trade deal, Mr Hammond stressed the importance of avoiding a no-deal end to negotiations with the EU.
Writing in the Times ahead of next month's Budget, Mr Hammond said he had a responsibility to be "realistic" about the challenges of leaving the EU and would spend money only when it was "responsible" to do so.
An extra £412m has already been allocated to government departments to prepare for Brexit over the next four years and Treasury sources suggested more would be made available if negotiations faltered.
Asked about the article as he appeared before the Commons Treasury committee, Mr Hammond said he was "committed" to funding departments for Brexit preparation and he was "rather surprised" that the article might be interpreted as saying that he was reluctant to do so.
"We are prepared to spend when we need to spend against the contingency of a no deal outcome," he said.
"I am clear we have to be prepared for a no deal scenario unless and until we have clear evidence that this is not where we will end up."
He said there would be a "decision point" at which departments would have to decide whether to fund programmes after Brexit in the event of no deal being reached but that moment had not yet been reached.
"What I am not prepared to do is allocate funds to departments in advance of the need to spend," he added.
"We should look in each area at the last point that spending can begin to ensure we are ready for a day one no deal scenario. That is when we should start spending hard-earned taxpayers money.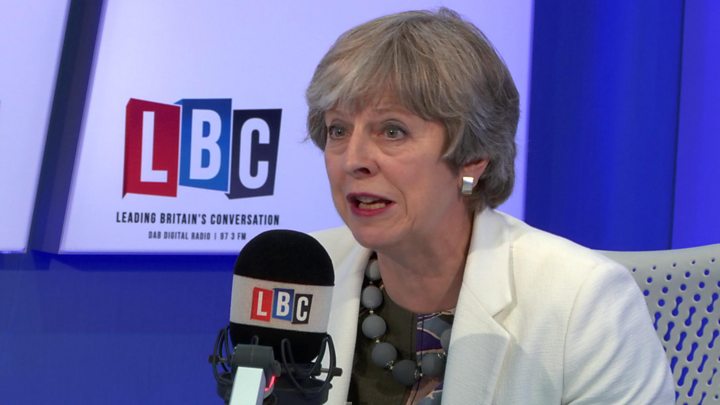 "Every pound we spend on contingency planning on a hard customs border is a pound we can't spend on the NHS, social care or education. I don't believe we should be in the business of making potentially nugatory expenditure until the very last moment when we need to do so."
"We will spend the money in a timely fashion to ensure we are ready but we will not spend it earlier than necessary just to make some demonstration point."
Government sources have sought to play down the significance of Mr Hammond's words, insisting he was merely reflecting Treasury caution ahead of the Budget.
The BBC's assistant political editor Norman Smith said the comments come amid mounting calls from some Tories for extra funds for new IT systems, border posts and staff – likely to be needed if there is no agreement.
On Tuesday, Mrs May – who backed Remain in last year's vote – repeatedly refused to say if she would now vote for Brexit, telling LBC radio: "I don't answer hypothetical questions."
The PM said she voted Remain "for good reasons at the time but circumstances move on" and she was focused on "delivering Brexit for the British people".
Downing Street sources suggested it was "ridiculous" to say her comments raised doubts about whether she would deliver Brexit, as some critics suggested.
Get news from the BBC in your inbox, each weekday morning