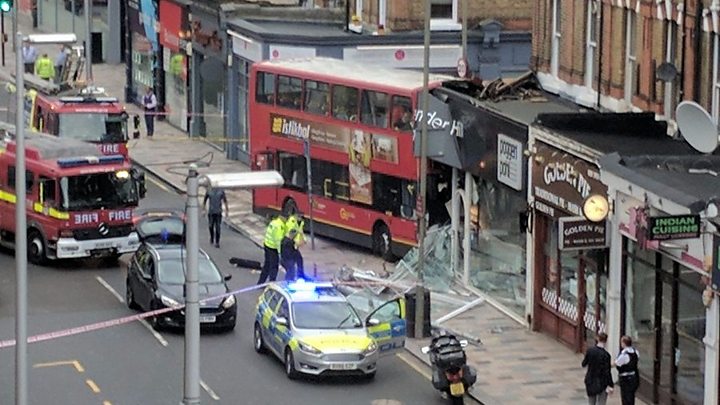 A double-decker bus crashed into a shop in south London and two women were left trapped on the top deck.
London Fire Brigade (LFB) said fire crews used an aerial ladder to bring the two passengers to safety.
One eyewitness said they felt the bus drifting before it crashed into the front of the Poggen Pohl Kitchen Design Centre in Lavender Hill, causing the shop front to collapse.
The driver of the bus has been taken to hospital.
Nine people have been treated by paramedics for minor injuries.
Andrew Matthews, 34, from Wandsworth, was one of about a dozen passengers on the bus.
"I was on the top floor at the back, fortunately," he said.
"I noticed the bus drifting. I heard a smash and saw the roof of the shop going through [the bus] from the front left. It went to the fourth or fifth row.
"I wedged myself in, bracing myself. As soon as the bus came to a stop there was yelling, screaming.
"I noticed a lady wedged in the front right-hand side. She was screaming for help. There was a lot of blood."
Another witness said smoke could be seen coming from underneath the bus.
Solange Morin, 33, who lives nearby, said: "I saw this woman shouting and banging on the glass. Everybody shouted 'fire, fire'.
"I went on to the bus. I talked to her and was holding her hands.
"She was pinned. I wouldn't have been able to get her out.
"She was so scared because people were shouting fire. There was a lot of smoke."
Another local resident, Brendan Pfahlert, said the crash "sounded like a large amount of glass being dropped".
In a statement, the London Ambulance Service said it had sent five ambulance crews, two paramedics and an incident response officer to the scene at about 06:55 BST. An air ambulance was also sent.
A Transport for London (TfL) spokeswoman confirmed the crash involved a route 77 double-decker bus and an investigation is under way.