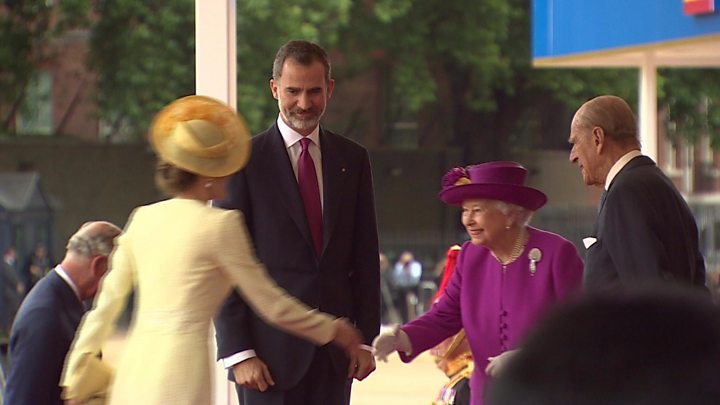 Britain and Spain can overcome their differences and further maintain strong ties, the king of Spain has said.
King Felipe VI said he believed the UK and Spain could begin "the necessary dialogue" to form an arrangement over the rock of Gibraltar.
Speaking in the Palace of Westminster, he said the countries were "profoundly intertwined" and he respected the UK's decision to leave the EU.
His speech came on the first day of a three-day state visit to the UK.
Spanish royals' UK visit glosses over Brexit cracks
Hundreds of thousands of Britons live in Spain, and a similar number of Spaniards live in the UK, King Felipe told MP and peers.
They "form a sound foundation for our relations," he added.
"These citizens have a legitimate expectation of stable living conditions for their families," he said.
The king highlighted the two countries' important trading arrangements, adding that Britain is "the second largest investor in our country".
Earlier the Queen and the Duke of Edinburgh greeted King Felipe and Queen Letizia at Horse Guards Parade, in a traditional welcoming ceremony.
The trip is the first state visit by a Spanish king to the UK since Felipe's father, Juan Carlos, came 31 years ago.
The Queen gifted King Felipe copies of love letters from his great-grandmother to King Alfonso XIII.
Queen Victoria's daughter Princess Victoria Eugenie met King Alfonso on a state visit to Britain in 1905.
The pair married and Princess Victoria Eugenie became Queen Ena of Spain, making King Felipe a descendant of Queen Victoria.
A royal welcome: Sarah Campbell, BBC royal correspondent
The wind died down and the sun broke through the clouds just as the Queen and Duke of Edinburgh stepped on to the dais at Horse Guards.
Every visiting head of state gets the same welcome – their national anthem and the chance to inspect the guard of honour with Prince Philip. With his retirement imminent, this could be the last time he performed that particular public duty.
Then King Felipe stepped into a carriage with the Queen for the traditional procession down the Mall accompanied by the Household Cavalry. The Duke of Edinburgh and Queen Letizia travelled in a separate carriage.
It was a chance for Britain to show off how well it can do "pomp".
A state banquet is to be held on Wednesday evening for the Spanish royals in the ballroom of Buckingham Palace, where they are staying.
Prince Harry and the Duke and Duchess of Cambridge are expected to attend the event.
It will be the first time Harry has taken part in a state visit.
On Thursday, he will accompany the royal visitors to Westminster Abbey.
King Felipe will lay a wreath at the Grave of the Unknown Warrior and the prince will join them on a short tour of the abbey, including the Tomb of Eleanor "Leonor" of Castile – the 13th-Century Spanish princess who married Edward I.