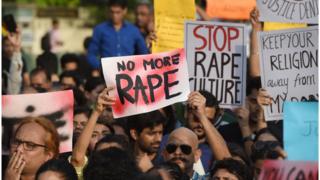 An Indian teenager who was kidnapped and gang raped last year has accused her parents of accepting money from her alleged assailants in return for pressing her to change her statement.
Delhi police said they had arrested her mother and are searching for her father, who they say is on the run.
The news emerged after the girl went to a police station with 500,000 rupees (about $7,600; £5,300) that she said her parents accepted from the accused.
She is now being cared for in a refuge.
"We believe the accused made efforts to negotiate with the victim's parents by offering them money," Deputy Commissioner of Police MN Tiwari told the BBC.
He said the girl had been aware of the negotiations and knew where her parents had hidden the money.
"We will find out more only after we arrest the father."
Police have registered a new case against the girl's parents and her alleged rapists. The original case was registered in September.
Scrutiny of sexual violence has grown in India since the 2012 gang rape and murder of a 23-year-old student on a bus in the capital.
The crime sparked days of protests and forced the government to introduce tougher anti-rape laws.
However, reporting of sexual attacks against women and children across the country continues to rise.
Last week there was fresh outrage after the rape, torture and murder of an eight-year-old girl near Kathua city in Indian-administered Kashmir.