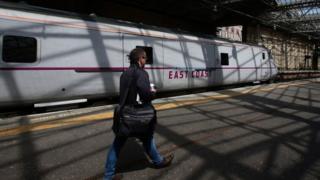 Rail services on the East Coast Main Line are being brought back under government control.
Transport Secretary Chris Grayling told Parliament that temporary state ownership would provide the smoothest transition to a new operator.
The service is being renamed London and North Eastern Railway (LNER) a brand last used in the 1940s.
It is the third time in a just over a decade that the government has called a halt to the East Coast franchise.
Mr Grayling told Parliament that after two months of analysis he had concluded that bringing the service back under the control of the Department of Transport was the best option.
The aim was to use a period of state control to establish a new public-private partnership from 2020, he said.
Mr Grayling said the new arrangements will not affect staff or passenger services.
The London to Edinburgh line has been run by a joint venture between Stagecoach and Virgin, since 2015.
The companies paid £3.3bn to run the franchise until 2023, but at the end of last year it become clear it was running into trouble.
In February it was announced that the franchise would end early, leading to accusations the government was bailing out the current operators.
Mr Grayling said the companies had "got their bid wrong", overestimating passenger numbers and revenues.
He told Parliament that Stagecoach and Virgin have lost almost £200m, but there had not been a loss to taxpayers "at this time".
The rail companies have blamed their problems on Network Rail, saying it had failed to upgrade the line which would have allowed them to run more frequent services.
Shadow Chancellor, John McDonnell tweeted that he welcomed the move, which he said was implementing Labour's Manifesto promise to renationalise the railways.
Green Party MP Caroline Lucas tweeted that public ownership should be extended the rest of the rail network.
Despite their failure on the East Coast Main Line, Virgin and Stagecoach will be allowed to bid for future rail franchises.
After looking into problems on the service, Mr Grayling said he was advised "that there is no suggestion of either malpractice or malicious intent in what has happened".
He added that the firms have paid a "high financial and reputational price" in relation to the East Coast route.
Stagecoach said it had attempted to negotiate a new contract with the Department for Transport, without success.