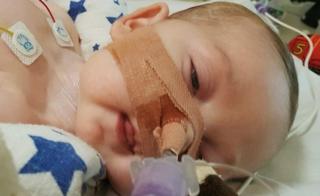 The judge hearing the case of terminally ill Charlie Gard said it was "absurd" that a dispute over his head size was "undermining" the case.
His parents' lawyer told the High Court Charlie's mother had regularly measured her son's head and disagreed with the hospital's measurements.
Doctors have said the baby's skull has not grown in three months, suggesting a lack of brain function.
His parents, Connie Yates and Chris Gard, have walked out of the hearing.
The judge is due to rule on whether the 11-month-old baby, who is on life support at Great Ormond Street Hospital (GOSH), can be given a trial treatment.
The court heard Ms Yates had measured her baby's head this morning and there was a 2cm difference with the hospital's measurements.
Mr Justice Francis said he wanted the matter resolved and called for an independent person to measure Charlie's head within 24 hours.
"It is absurd that the science of this case is being infected by the inability to measure a child's skull," he said.
The couple, who come from Bedfont, west London, left the courtroom after two hours over a disagreement with the judge about what they had said at a previous hearing on whether Charlie was in pain.
Mr Gard stood up and said: "I thought this was supposed to be independent."
Mr Justice Francis then offered to adjourn but was told the pair already knew the evidence being given by their legal team.
Ms Yates and Mr Gard returned for the afternoon session, which will include evidence from the specialist in the US offering to treat Charlie.
Mr Justice Francis told them: "I can understand it is desperate for you." He said if they wanted to leave the court at any moment they must feel free to do so.
Charlie has a rare genetic condition called mitochondrial DNA depletion syndrome (MDDS).
Doctors say he should be moved on to palliative care but his parents have raised more than £1.3m to take their son to the US for an experimental treatment.
The treatment, called nucleoside therapy, is not a cure and there have not been any trials to see if it would work in Charlie's condition.
Charlie has severe brain damage, cannot open his eyes or move his arms or legs and needs to be on a ventilator.
Doctors at GOSH have said his life support should be switched off and he should be allowed to die with dignity.
The case returned to the High Court following reports of new data from foreign healthcare experts who suggested treatment could improve his condition.
Doctors at the hospital have said the evidence is not new but it was right for the court to explore it.
Grant Armstrong, who is leading Ms Yates and Mr Gard's legal team, told the judge they wanted to reopen the case on the basis that the treatment is likely to have an affect on Charlie's brain cells.
He said Ms Yates and Mr Gard disputed the view that Charlie has "irreversible, irreparable" damage to his brain.
The couple have already lost battles in the High Court, Court of Appeal and Supreme Court to allow them to take their son elsewhere for treatment.
They also failed to persuade European Court of Human Rights judges to intervene in the case.
---
Timeline
3 March 2017: Mr Justice Francis starts to analyse the case at a hearing in the family division of the High Court in London
11 April: He says doctors can stop providing life-support treatment
3 May: Charlie's parents ask Court of Appeal judges to consider the case
23 May: Three Court of Appeal judges analyse the case
25 May: The Court of Appeal judges dismiss the couple's appeal
8 June: Charlie's parents lose their fight in the Supreme Court
20 June: Judges in the European Court of Human Rights start to analyse the case, after lawyers representing Charlie's parents make written submissions
27 June: Judges in the European Court of Human Rights refuse to intervene
3 July: The Pope and US President Donald Trump offer to intervene
7 July: Great Ormond Street Hospital applies for a fresh hearing at the High Court
---