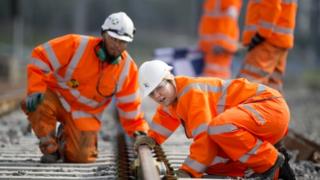 The future of troubled engineering company Carillion is being discussed at high-level government meetings this weekend, the BBC understands.
The firm is a key government contractor for projects including the HS2 high speed rail scheme, schools and prisons.
There are fears it is close to collapse as it struggles with £1.5bn of debt and a pension shortfall of £587m.
On Friday, Carillion said it remained in constructive dialogue about short-term financing.
The Wolverhampton-based company is the UK's second largest in the construction sector and employs 43,000 people globally.
In 2016 it had sales of £5.2bn and until July boasted a market capitalisation of almost £1bn.
But since then its share price has plummeted and it is now valued at about £61m.
The consultants EY have been put on notice in case the company falls into administration.
Reports that creditors had rejected a potential rescue plan sent Carillion's shares down by more than 28% on Friday.
But in a statement, Carillion said: "Suggestions that Carillion's business plan has been rejected by stakeholders are incorrect."
It said the firm remained in constructive dialogue about short-term financing while "longer term discussions are continuing".
Guarantees demanded
The government has said it was "monitoring the situation closely".
A government spokeswoman said: "Carillion is a major supplier to the government with a number of long-term contracts. We are committed to maintaining a healthy supplier market and work closely with our key suppliers."
The BBC understands that the Ministry of Justice has drawn up plans to bring £200m of prison contracts run by Carillion back into public control.
Carillion, which was founded in the late 1990s as a spin-off from building giant Tarmac, also operates in Canada, the Middle East and the Caribbean.
It has worked on key projects including the Royal Opera House in London, the Suez Canal road tunnel and Toronto's Union Station.
It is also the second largest supplier of maintenance services to Network Rail.
The general secretary of the RMT rail union, Mick Cash, said Carillion's workers "should have protection and guarantees from the government, including an assurance that operations will be directly transferred over to Network Rail" if it goes bust.
However, Liberal Democrat leader Sir Vince Cable has said ministers must not bail out the company.
The former business secretary told BBC Breakfast: "They've got to force the shareholders and indeed the creditors, the big banks, to take losses, and then the government can take responsibility for taking the contracts forward and making sure they are delivered."