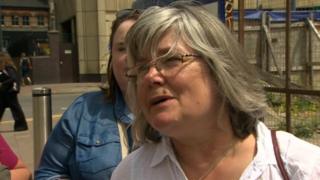 Seventy-five members of staff at a Cardiff hospital have been left "broken" by a court ruling that means they owe thousands of pounds in parking tickets, a campaigner has said.
On Friday, a judge at Cardiff Civil Justice Centre ruled private company Indigo could collect the charges from University Hospital of Wales staff.
This means 75 people with outstanding tickets must pay the debt.
Sophie Round, a healthcare support worker, said she was "gutted".
"It's not really the outcome that we wanted and what we earn doesn't really cover the fines," she added.
Campaigner Sue Prior said: "It's horrendous. Some of them [staff] are broken. They're scared stiff, petrified, they feel sick. This affects everyone from cleaners to doctors."
She said staff had permits which allowed them to park in designated areas for £1.05 a day, but a lack of spaces meant staff had been forced to park in unauthorised areas.
Indigo said as a "gesture of goodwill" in April 2016 it cancelled all parking charge notices up to the end of March 2016 and reduced the charge to £10 if paid within 14 days.
A spokesman said Friday's court hearing related to three "persistent offenders" who had accumulated in excess of 100 tickets between them since April 2016.
He added: "As the company responsible for managing parking and ensuring the free flow of traffic at Cardiff UHW, we have an obligation to ensure enforcement of parking restrictions… the court's ruling has justified our decision to take this action."
Staff nurse Felicity Richards added: "I have to allow 45 minutes to an hour extra to park my car every morning to find somewhere to park.
"By the time I get into work there are usually no parking spaces and I have to park off site and quite often I have to park a 20 to 25 minute walk away."
Cardiff and Vale University Health Board said more than 98% of staff complied with parking regulations and it was "disappointing" some had "chosen to refuse to co-operate".
In 2015, it urged staff to pay any parking fines, saying they had been correctly issued and it did not intend to dispute them.
Indigo has had a contract to manage and maintain the hospital's car parks for several years and has 1,250 spaces there.
Ms Prior said she had been campaigning on behalf of staff because two of her children were born blind at the hospital, but after medical intervention now have some sight.
"I had to help. Without those people and the NHS my children would be blind," she said.