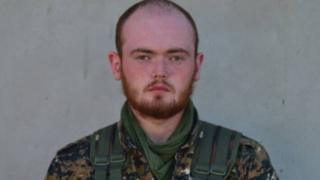 A 22-year-old British man has been killed fighting against so-called Islamic State in Syria, Kurdish fighters have said.
Luke Rutter, from Birkenhead, Merseyside, was killed on 6 July in a neighbourhood south of Raqqa, in northern Syria, a statement said.
The fighters said he was killed "during the big campaign to liberate Raqqa from the terrorism of IS".
Mr Rutter's family said they did not wish to comment.
He is the fourth British man to be killed while fighting against IS in Syria.
In a video posted online by the General Command of the Kurdish fighting forces, the YPG, Mr Rutter said he joined the group because it "stands for the best opportunity for peace that this region might have".
"I lied to people I care about to come here," he said.
"I said I was going somewhere else – I didn't. I apologise massively for that.
"Apart from that I don't regret my decision and I hope that you respect it."
The statement from the YPG said Mr Rutter was also known by the name "Soro Zinar" and he arrived in Rojava, a Kurdish region in northern Syria, at the beginning of March 2017.
It said Mr Rutter had military training at the YPG academy in Rojava and that "despite lacking professional military background, he was among the best in training."
"We send our thoughts and prayers to Martyr Soro, his family, and his comrades who fought courageously on behalf of all humanity," the statement said.
"Soro will always be remembered by our people and all peace-loving people around the world as a hero who sacrificed his life for the sake of protecting the value of the free world."
The British Foreign Office advises people not to travel to Syria to fight.