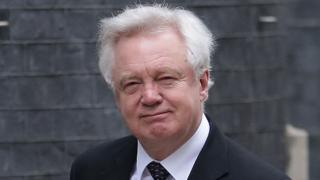 David Davis said he can "live with" a transition period of under two years if that helps to secure an early deal.
The Brexit secretary said the EU and UK will establish a joint committee during the transition period to guarantee a "duty of good faith" by both sides.
He said that outlines of the transition phase would reassure Brexit supporters.
Mr Davis will travel to Brussels on Sunday for a meeting on Monday with the EU's chief negotiator Michel Barnier.
Prime Minister Theresa May has called for an implementation period of "around two years" after the UK leaves the EU on 29 March next year.
Juncker: UK will 'regret' Brexit
We don't want wall with UK – Tusk
All you need to know about Brexit
In an interview with BBC Newsnight, Mr Davis said he was prepared to accept the EU demand that the transition should come to end earlier – in December 2020 – to ensure the transition is concluded at the same time as the EU's seven-year budget cycle.
The Brexit secretary said his main priority was to secure agreement on the implementation period at next week's EU summit in Brussels.
He told Newsnight: "That is more important to me than a few months either way. So I'm not bothered too much about the question of whether it is Christmas 2020 or Easter 2021."
Asked whether he could live with the transition ending in December 2020, he said: "I would live with that. We are still in the middle of a negotiation. Frankly what I would not do is delay the decision [on an implementation period] in order to get a month or two more."
'Duty of good faith'
Mr Davis said that the UK's decision to accept the EU's transition timetable will be balanced by the establishment of a new joint committee to ensure both sides observer a "duty of good faith" during the transition.
He downplayed concerns, voiced by the prominent Tory Brexit supporter Jacob Rees-Mogg, that the UK would be a "vassal state" during the transition. He said most EU laws take two years to pass – three months longer than the proposed transition timetable.
Mr Davis said: "It is not going to be a big material issue. But we want to have in place, and we will have in place, is a joint committee which will oversee any issues like this that come up and a duty of good faith, good faith on both sides so neither side is disadvantaged. So we won't fall into Mr Rees-Mogg's interesting definition of our position."
Have voters changed their minds?
May urges EU to embrace 'ambitious' Brexit
The Brexit secretary was interviewed by Newsnight during a day in which he travelled to Copenhagen and Prague to shore up support for the UK in the Brexit negotiations.
Britain believes that the remaining 27 member states, who have been united behind Brussels in the first phase of negotiations, may have their own concerns which could be helpful to the UK in the final phase of negotiations.
Mr Davis, who has been criticised by the European Commission for visiting EU capitals rather than negotiating in person in Brussels, announced he would meet Michel Barnier in Brussels on Monday.
He said: "On all of these [strands in the negotiations] we started discussions with the Commission in Downing Street about four weeks or so ago. Since then a team, my team, have been working flat out. Principally in Brussels, and that will continue through this weekend, and I shall join them on Sunday and we'll have another meeting with Michel on Monday."
Brexit: David Davis 'can live' with shorter EU transition}