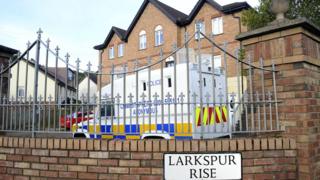 The body of a woman who is believed to have been murdered may have lain undiscovered for more than two years, police have said.
Marie Conlon, 68, was discovered dead in bed in a flat at Larkspur Rise in west Belfast last Friday.
A 23-year-old man was arrested on Wednesday and remains in custody.
Detectives have established that the last known sighting of Ms Conlon was in January 2015.
"It is our belief, supported by the medical evidence, that her death may have occurred at around this time," said Ch Insp Alan Dickson.
"We have launched a murder investigation and a 23-year-old man has been arrested on suspicion of a number of offences including murder.
"He was detained in the west Belfast area yesterday and remains in custody."
Ch Insp Dickson said authorities were alerted on Friday after concerns were raised about Ms Conlon's welfare.
"Officers forced entry to her Larkspur Rise home and discovered her deceased in bed," he said. "It was apparent that she had lain undiscovered for some time."
Results from a post-mortem examination suggest the death may have been suspicious, said Ch Insp Dickson, adding that further tests were due to take place.
'Tragic episode'
Sinn Féin councillor Séanna Walsh said the victim's family was shocked and "overwhelmed with grief".
"One of the tragedies, I suppose, of modern living is that in areas like this you don't have the same sense of connectedness that you would have had if she had have lived in a house further into the estate," he said.
"This type of accommodation is very transitory, there's people coming and going all the time. I just find it tragic, the whole episode."
SDLP councillor Brian Heading said it was concerning that someone could have lain undiscovered for so long.
"This is something that people need to think about, that if you don't see your neighbour knock on the door," he said.
"We don't know all the circumstances yet, but by keeping in communication with someone there could have been a different outcome in this case."