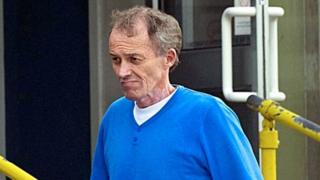 Three of Barry Bennell's victims have told how he turned their dreams into a "horrendous nightmare" after the former youth football coach was convicted of 43 sex assaults on boys.
Bennell, who worked at Manchester City and Crewe Alexandra, was found guilty of abusing 11 boys aged eight to 15.
Speaking outside Liverpool Crown Court, another victim, Andy Woodward, said "justice has been served".
It is understood 86 others have come forward to say they were victims.
Before the case Bennell admitted seven charges of indecent assault on three boys, two of whom were also part of the allegations he was tried on.
He was found guilty of 36 charges on Tuesday, and a further seven counts on Thursday, related to offences committed between 1979 and 1990.
Bennell, who is now known as Richard Jones, appeared in court via videolink during the five-week trial due to illness.
He could be seen shaking his head and muttering when the final guilty verdicts were returned by a 10-1 majority.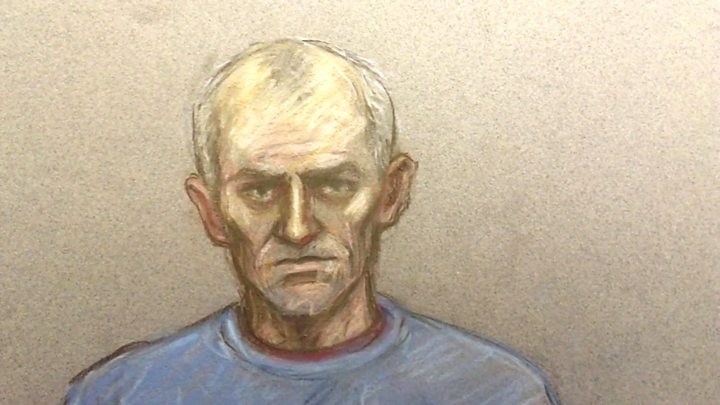 He will be sentenced on Monday and will be produced from custody to attend the hearing.
It was the fourth time Bennell had been convicted of abusing boys.
The jury was told he had previously received jail sentences in the UK and in the US.
'Innocence shattered'
The latest police investigation began in November 2016 when Andy Woodward gave interviews about his experiences to the Guardian and BBC's Victoria Derbyshire programme.
Speaking outside court after the verdict, the ex-Crewe defender said: "Justice has been served today and people will be able to move on with their lives including myself."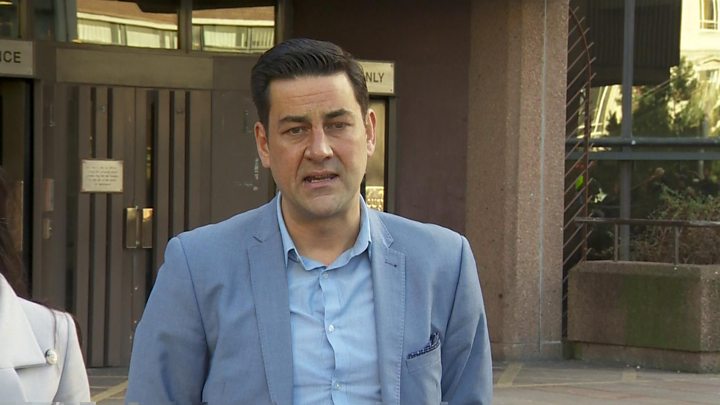 Mr Woodward said he believed "the football clubs that were accountable for this… could have stopped this for so many years… And I think now's the time that that comes sort of out.
"And I would personally like after 15 months, an apology from Crewe Alexandra for what happened to us boys."
Ex-Manchester City youth player Chris Unsworth, who was abused by Bennell when he was a scout at the club, read a statement outside the court alongside Micky Fallon and Steve Walters.
The three are supporters of the Offside Trust, which was set up by ex-professional players to support survivors.
Mr Unsworth said: "We stand before you today as men united in justice, but this is about so much more than us."
Mr Fallon, who was targeted by Bennell at Crewe, said: "We stand before you today as men united but, at the same time, we were very young boys. We were little boys with a dream and our innocence was shattered. Our dreams turned into the most horrendous nightmare."
Prosecutors told the trial Bennell had a "power hold" over the players.
They said boys were abused between 1979 and 1990 at his home – where he had arcade games and exotic pets including a puma and a monkey – on trips away, and in his car on the way to and from training.
Det Insp Sarah Oliver, who led the investigation, said Bennell had betrayed the trust of the young players.
"As a football coach he should have provided nothing more than safety and support for the players in his care," she said.
"Instead he abused them. He also abused the trust of their families who had placed them into that care so they could pursue their dreams of being professional footballers. He has shattered those dreams and left them burdened for decades."
Clubs launch inquiries
In a statement, Crewe Alexandra expressed its "deepest sympathies" to Bennell's victims and said it worked closely with the police investigation.
It added it was was not aware of any sexual abuse by Bennell or received any complaint about sexual abuse by him before or during his employment with the club.
Manchester City offered "heartfelt sympathy to all victims for the unimaginably traumatic experiences they have endured".
The club said it was keen to speak to any survivor or witness to sexual abuse which might in any way be connected to Manchester City or which could support a review it launched after the latest Bennell allegations were raised.
It added its review also identified serious allegations of child sex abuse in respect of a second man with "potential historic connections to the club". The man is now dead and is not believed to be linked to Bennell.
The Football Association said it acknowledged the "traumatic experience" of Bennell's victims "and the bravery they have shown in coming forward".
It said an independent inquiry into allegations of non-recent child sexual abuse in football had been set up and also urged victims and survivors to contact police "if they are ready to do so".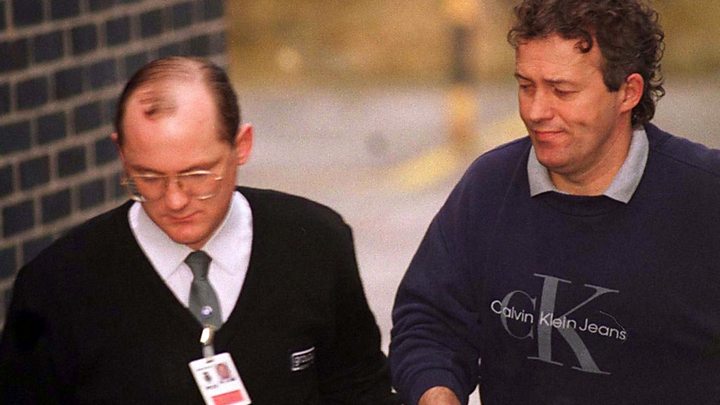 Bennell chose not to offer any evidence or witnesses in his defence and had told police he was suffering from cancer, which in turn had caused memory problems.
His barrister accused the complainants of inventing stories about him and "jumping on the bandwagon".