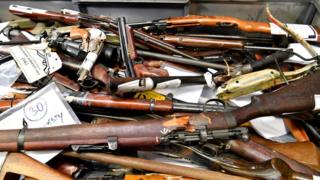 One of the architects of Australia's strict gun control laws has warned the nation against loosening them.
The Australian government brought in sweeping gun ownership reforms following the deaths of 35 people in a mass shooting in Tasmania in 1996.
Some have argued the US should adopt similar laws, a debate reignited by this month's Las Vegas massacre.
But Tim Fischer, who was Australia's deputy PM in 1996, said his nation risked "chipping away" at its own laws.
His warning follows suggestions by shooting advocates that "law-abiding firearms owners" were being over-regulated.
"Do we want to import the NRA [US National Rifle Association] terminology and the poisonous policies of that in Australia?" he said on the Australian Broadcasting Corp.
"I will certainly stand up against that."
Australia banned automatic and semi-automatic weapons in 1996 under a National Firearms Agreement introduced by former Prime Minister John Howard, a conservative.
However, a recent Gun Control Australia report found that no state had fully complied with the agreement – although the most important restrictions had been maintained.
Mr Fischer said although the laws were being eroded "by degrees", they remained stronger than in many countries and had reduced gun-related deaths.